ADMIRAL MOVERS HELPS CLOVERDALE PLAYHOUSE
MONTGOMERY – Admiral Movers President Scott McNelley is a proponent of giving back to the community. That's why he & Admiral Movers donated $8,000 to $9,000 of services to help Cloverdale Playhouse relocate & renovate its facility.
Admiral Movers donated the use of 10 employees and a truck to help the Cloverdale Playhouse moves its stock from one warehouse to another, averting an emergency. There is limited storage space at the organization's home on Cloverdale Avenue at the site of a former church.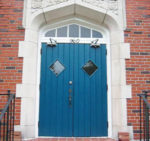 Emily Flowers, managing director of the Cloverdale Playhouse, said she called McNelley and told him, " 'Oh my gosh, I'm in so much trouble.' " That trouble was moving the organization's stock from a warehouse in two weeks.
"We weren't going to be able to get our volunteer team together to do it (move the materials)," Flowers said. The organization has just two, full-time paid employees.
"I called Admiral and asked for a huge favor of helping us move. They donated the moving team and their time."
She praised the moving crew. "The crew was great, polite, quick, efficient. It was a pleasure to work with them. We had lunch together with the guys. They really felt like a team and it was really great."
She said that Admiral Movers helped Cloverdale Playhouse overcome "a potentially horrible situation to happen to us. And that was a tremendous thing. They came to (our) rescue."
The Cloverdale Playhouse, a community theater, was founded in 2009.
"I feel fortunate to be in the position I am and I feel it's important to share my success with the community," McNelley said. "We are part of the community and our success comes from the community. We give back to the community because it's the right thing to do. I'm glad to help such a worthy organization. The Cloverdale Playhouse helps make Cloverdale such a unique and special place."
[testimonials_cycle theme="avatar-left-style" count="-1″ order_by="date" order="ASC" show_title="0″ use_excerpt="0″ show_thumbs="1″ show_date="1″ show_other="1″ hide_view_more="0″ show_rating="stars" testimonials_per_slide="1″ transition="fade" timer="5000″ pause_on_hover="true" auto_height="container" show_pager_icons="1″ prev_next="1″ display_pagers_above="0″ paused="0″]