Montgomery's Top Moving Company Escapes
Montgomery's Moving Leader Escapes Disaster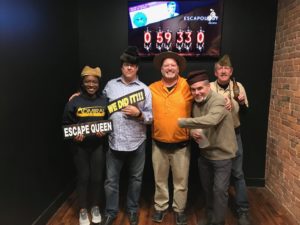 As a reward for achieving sales goals Olivia Foster Vice President, Controller took the sales team to Escapology. Unlocking the keys to find the antidote & foil chemical exposure was a team effort for the team Admiral.
Admiral Movers is AlwaysLeading Service Fun
Leading the sales team in reaching the wintertime sales goals was James Potts, & Mark Deplanche. Kevin Gourley Admiral Records Management General Manager was instrumental in breaking the codes that allowed the team to succeed.
The team building exercise was a blast & a fantastic end to the week. Work hard & play hard the Admiral way because we believe it is the key to long-term success. Admiral appreciates all the customers, employees & their families that continue to support the efforts of Montgomery's locally owned moving company.
Admiral Locally Owned Mayflower Transit Agent Montgomery's Top Moving Company
Admiral is an agent for Mayflower Transit. Admiral started with one truck in 1989. Admiral offers residential & commercial moving & storage services in the southeastern United States. While Admiral Movers is well known for office & hospital moving over half the work done is residential.
Admiral Records Management
Admiral Records Management a division of Admiral Movers offers to shred, records storage, hard drive destruction, privacy consulting & scanning. Complete document management, and information protection.
Successful Teams Achieve Graeter Success
"Coming together is a beginning. Keeping together is progress. Working together is the success." –Henry Ford
"Individual commitment to a group effort–that is what makes a team work, a company work, a society work, a civilization work." –Vince Lombardi
Call or contact us for a free estimate.
If the Admiral team can help you with moving, storage, shredding or records management feel free to call 877-816-3454 or fill out the quote request form & we will get right back to you.