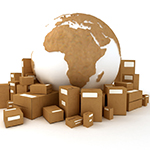 Move Packing Tips Helpful hints on moving
Planning a move can be stressful for you. Let Admiral Movers help with offering some of these moving tips!
First, Mayflower Transit and Admiral Movers has provided the Interactive Moving Guide. By providing your email address and the date of your move, Mayflower will email you weekly reminders about important steps in preparing for your move. Click here to sign up for Mayflower Moving Email.
Second, here are some of the most forgotten items..
Phone charged? — On delivery day be sure your cell phone is fully charged and all parties who need to contact you have your number. If you plan on immediately establishing a LAN line, contact your local phone company and bring a phone with you which can be installed upon your arrival. Research local Internet providers and arrange for service before your delivery so you will have connectivity right away.
Important health and school records — Obtaining copies of your medical records, including your dentist, veterinarian and vaccine/immunization information can often be overlooked. In some cases, a notarized letter is required to receive the official documentation; you may need to contact the American Medical Records Association to determine your new state's procedure. Your child's permanent school record cannot follow him or her through life if it's left behind. In addition, school records are usually required when registering your child at their new school. Often, copies will not be sufficient, and records with a raised seal will be necessary.
Old Phone Numbers — Pack phone books from your old town. You may think you have stored all the relevant numbers in your cell or that you can use the Internet to look up forgotten numbers, but when it comes to tying up loose ends, phone books may have information you just can't find online.
Dry Cleaning? — Did you remember to complete transactions with local businesses (for example, picking up your dry cleaning) before the move?
New address — In the flurry of preparing for the move, you may often forget your forwarding address — important information when forwarding periodicals and credit card bills, as well as keeping in touch with old friends. Always keep your new address handy in your wallet or purse.
Spic And Span — Although your focus will be on your new home or apartment, you can't forget about preparing the old residence for your exit. Remember to leave out cleaning supplies for the final "once-over" before closing the door for good, or make arrangements in advance for a service to clean it for you.
Leave the garage opener — Many people often forget to take the electric garage door opener out of their car before leaving. Remember to leave the opener for the new tenants or owners.
Don't forget the pets — In most cases, moving companies cannot transport animals or plants. Remember to make arrangements for their transfer, as well. The U.S. Post Office has provided information to help you arrange moving your pets. Click here to visit the Post Office.
Bank documents — Many people forget to retrieve important documents from their safe deposit box. It is also wise to establish a checking account in your new town about a month prior to your move so that you have immediate access to your account.
Extra keys — The collection of spare house keys can often be forgotten. Whether it means getting them from neighbors who kept them, or retrieving them from under the rock next to the front door, don't forget to gather all sets before you depart.
New city info –Moving to a new city brings with it a lot of uncertainty. We have provided these valuable tools to make your research easier. Search for a home in your new city using Realtor.com. The Official Internet Site of the NATIONAL ASSOCIATION OF REALTORS®. Search for businesses in your new area using Yellowpages.com or Verizon's Superpages.com Internet Yellow Pages. To research schools in your new area, visit The School Report. For more information on your new city, visit YAHOO! Get Local.
Trip Kit — Admiral Movers recommends putting aside essential articles in what Admiral Movers, Inc. calls a "Trip Kit." The kit, usually made of a moving box small enough for a family to take with them to their new home, acts as a collection point for important papers and necessary items that should not be boxed up during the busy sorting and packing process. Click here to view a "Trip Kit" Checklist.
Change of Address — The U.S. Post Office has provided information to help you notify all of the necessary parties of your move. Click Here to visit the Post Office.
Helpful hints on packing
Many of Admiral's clients choose to have us do the packing for them. If not, then we will let you take the reigns on this one. Here's some tips to help..
Plan on at least six weeks to pack and get ready for your move.
Before you start packing, determine the items you want to throw away, give away or sell.
Don't just start packing — plan how you will pack. Pack items you seldom use first. Pack items of similar size and weight together. Don't make any carton too heavy to easily lift.
Always use proper packing cartons and wrapping materials. Use professional packing tape, which is wide, strong, and clear or brown. Tape all cartons closed on the top and bottom — don't just fold the end flaps closed. Use crumpled, unprinted newspaper to pack items in boxes.
Label the contents on the outside of all boxes. When packing fragile items, clearly mark "fragile" on the outside of the box, with arrows on the sides to indicate the correct upright position.
Indicate boxes holding essential items, such as cooking utensils, bedding, linens and toiletries that need to be opened first by writing "open first" on the box and making sure these are the last boxes to be loaded onto the moving van.
We hope some of these tips were useful for your moving needs. We love to answer any questions you may have about these tips or any additional questions. Contact Admiral Movers today at 334-262-6666.