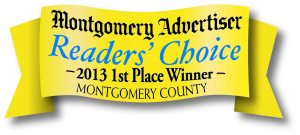 Admiral Movers is an award-winning moving company located in Montgomery, AL. Admiral believes in hard work and dedication of all our team members. We started our company with one goal: to raise the bar of customer service. Every letter of reference, move review, and award Admiral receives is a sign we are achieving our goal.
Admiral's Awards include being named top mover for the 15th year in a row. The annual award is presented by the Montgomery Advertiser Readers! Admiral is continually working to better serve our customers. We feel it demonstrates our dedication and hospitality.
Admiral Awards and Recognition
Montgomery Chamber names Admiral Movers to its "Emerging Thirty" list
2002 American Red Ball names Admiral Movers its number two commercial mover that year
Scott McNelley named to the "Chambers 40 under 40" award given to young rising business people
2013 marked the fifteenth time Admiral Movers was named best in the Montgomery Advertiser's "Readers Choice Award"
2008 Montgomery Area Chamber names Admiral Records Management the "Small Business of the Year"
"Heart of Quality" award by Mayflower Transit for exceptional service
River Region Ethics Award in business goes to Admiral Movers in medium size business division.
Helping folks navigate relocation projects is recognition we truly value. If you have moving needs we would hear from you. Call 334-262-6666