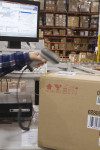 Admiral Asset Management offers a variety of services for your assets through their life cycle: installation, storage, relocation and redeployment. It is all managed by Alabama's leader in office moving and commercial services – Admiral Movers Asset Management.
Our storage facility is available for holding your inventory during lags in production.  Because scheduling is so important from production to delivery, our warehouse personnel are on-call to meet your needs. We also permanently house retired assets. At termination of the fixed asset life-cycle, we can dispose the assets by resale, recycling, refurbishing or auction, or strip recyclable materials and send what remains to the landfill. From furniture to machinery, we tag, catalog, and pack everything in sealed vaults.
Admiral Asset Management offers descriptive digital inventory complete with full color pictures. Our inventory team can generate a registry featuring the item description with dimensions, current condition, and web-based images.  These registries are useful for depreciation schedules, redeploying inventory to distant team members, and to list items for sale.  If you need us to help sell or auction an item, we can handle that too. We provide a variety of other time-sensitive asset services for our clients including distribution, consolidation and delivery.
For more solutions & logistics, contact Admiral Movers today at 334-262-6666.
For more detailed information about the full services we offer, please see our corporate website here.