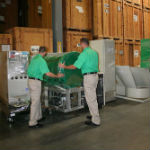 Warehouse Storage Services Alabama
Admiral Movers has 42,000 square feet of warehouse storage space in Alabama for your household possessions and commercial assets. Our warehouse is protected around the clock by a state of the art security system with digital surveillance. Our warehouse is clean and is inspected by the DOD along with the city, State, county & Agriculture inspectors.
Secure Dry Safe Protected Storage
Because our structure sits four feet above the ground, moisture is never an issue. If you are in need of storing your belongings, they deserve the best protection available to Admiral. Possessions are tagged, inventoried, and safely secured in sanitized vaults. All upholstered furniture is clear-wrapped and placed on furniture racks.
Warehouse Storage features
Vaulted and Containerized Storage Containers
Digital Bar-coded Web Based Inventory Tracking Program
Climate Controlled and Non-Climate Storage Environments
Experienced Full-time Warehouseman
Multi-level Docks for Easy Pick-up and Delivery
Upholstery Racks
Shrink Wrap and Van Kits to Protect Upholstery Items
Receiving and Delivery Service
24-hour Digital Video surveillance
Boat Car Storage
Storage Support Cut Costs Get Organized Concentrate On Customers
We can act as your warehouse partner. Receiving, delivering, and sorting is simple and straightforward. We can track your product while you take care of your customers. We can email you digital pictures of your items and check for damage. Cut costs and improve customers service while reducing your headaches.
For warehouse questions, contact Admiral Movers today at (334) 262-6666. Fill out a "Request Quote Form" or info@admiralmovers.com