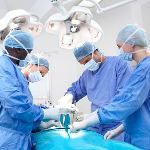 Admiral has moved a large number of healthcare facilities including large medical institutions, doctors' offices and labs. Our expertise in managing large-scale projects assures our clients the confidence that each and every job will be done on time and within the move budgeting time allowed. We sweat the details, so the customers never have to. We use a variety of types of building protection because we are fanatical about protecting your facility. We work with all your vendors, facilities personnel, and hospital administration to construct a plan that minimizes downtime!
Coordinating a hospital move involving millions of dollars worth of equipment, thousands of staff members and hundreds of patients involves extensive planning.  Admiral can help, whether it is budgeting, planning or complete management and execution, Admiral is there every step of the way.  To plan a move of this scale, flexibility is key and multiple contingency plans are a must.  Many unforeseen instances will present themselves during the move.
Total Move Management
As you plan for a major relocation, our Total Move Management program becomes incredibly valuable as we take the whole process off your shoulders and onto ours. This allows you to concentrate on leading your entity and focusing on your true mission and customers. As move time approaches, the demand on your time will go into overdrive, so let us manage the process so you do not have to reinvent the wheel. There is no reason for you to become an office or hospital mover, that is what we do.
Healthcare moves we've performed
Admiral Movers has moved many hospital, healthcare, and medical moves, including Jackson Hospital, Maxwell Ambulatory Health Care Facility, Baptist Hospital, Eglin Air Force Base Hospital, and the entire lab for the Alabama Department of Environmental Management, just to name a few.
If you are planning a complex medical facility move.  Give us a call so we can plan the transition together 334-262-6666.