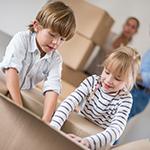 A great Move Coordinator can be the most valuable asset during a relocation.  Here at Admiral we want to take the headaches out of moving so to help you with managing your relocation we provide move coordinators for both residential moves and office moves. We understand how valuable your time is and adding on a relocation project can seriously strain your resources. We're here for you so you focus on your customers or family and getting your operation back up and running.
We provide project management experience and a long track record of success, which in the end will make you a success. Our project managers have over 28 years of experience with every type move you can imagine, hospitals, labs, banks, corporate headquarters, museums, libraries, antique shops. Some of the tasks that our move coordinators can help you with are
Budgeting
Project management
Large project planning & coordination
Planning
Coordination
Attend meetings
Conduct department meetings
Conduct pack & label seminar
Advise
Expand your capabilities
Support
Management
Request a quote for Long Distance Moving here or contact Admiral Movers at 334-262-6666.
See more about us and our services offered at www.alwaysleading.com