Montgomery Movers Montgomery AL Admiral Movers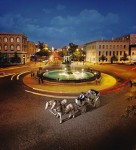 Montgomery Movers Admiral Movers started in Montgomery Alabama in 1989. Admiral is locally owned and operated by the same family since 1989. Home and office moving in and around the Montgomery Alabama area for 28 plus years. Your Montgomery Movers grew from one truck to be a leader throughout the Southeastern United States. One satisfied customer at a time and one move at a time.
Montgomery Alabama First Flying School
Montgomery is the capitol of Alabama and is centrally located on the Alabama River. Montgomery, in many ways, is also the capitol of cotton as it was once home to more cotton growers and brokers than anywhere else in the world. Also, the first school of aviation was in Montgomery started by Orville and Wilbur Wright. The site of the Wright Brother's Flying School is now Maxwell Air Force Base.
Montgomery is two hours away from the prettiest beaches in the world, forty-five minutes from peaceful Lake Martin and just two and half hours from Atlanta. So, when you choose Montgomery Movers for logistics, delivery, receiving or warehousing, you are convenient to many areas around the south.
Montgomery Movers Mayflower Transfer agent Admiral Movers
Admiral Movers is an agent for Mayflower Transit in Montgomery, AL. If you need storage we feature the finest controlled access warehouse facility in the Montgomery area. Montgomery's Mover warehouse features climate and non-climate controlled areas. We have vaulted, containerized and open floor storage available to suit your many needs.
Montgomery Moving Services
Whether you need moving, storage, packing, crating, logistics, local or long distance moving Admiral can handle it. If you are moving into, or out of or around Montgomery, we want to earn your business!
Please call (334) 262-6666 or fill out the request a quote form and we will get to work for you.