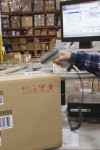 Office Assets
Managing office assets sometimes require items to be stored. Admiral provides commercial storage and logistics support service. We operate as a complete records management company and provide a warehouse facility. All the employees have passed an extensive background investigation and we can supply you with a "Business Associates Agreement" that will extend your privacy issues to us. Whether it is moving hospitals, large corporations, law firms, physicians' offices, insurance companies or banks, we want you to trust Admiral to protect your assets and confidentiality. We have been in the business of moving, storing, and delivering for Alabama firms more than 26 years.
The items can be sold, shredded or destroyed (as directed) at the end of an asset life cycle. We can help aid with compliance, redeployment, and liquidation. We can also provide your accountants with a "certificate of destruction." Admiral can handle destruction or recycling of computer and electronic equipment in a secure and confidential manner. We can facilitate a triple drill of a hard drive, or DOD approved double swipe of a hard drive for recycling and disposal.
We have contacts for the disposition of cubicles and office furniture.  We can help transport items to charities and help arrange delivery to the dump. We can clean out store rooms, mini-storage, old buildings, warehouses, etc. and we do it with speed superior to others. Some services we offer are as follows:
Office Assets and the features of our warehouse
We have the finest storage facility in Central Alabama. Our climate controlled storage is high & dry.  We are inspected monthly for fire protection, are an approved DOD facility and inspected to meet state and agriculture standards for storage.  Our fire, smoke and heat monitors are hooked directly to the monitoring station and the fire department.  Our fire and security systems have a back-up power supply. We are equipped with state of the art, 24-hour digital video surveillance, and infrared cameras inside and out. We own and maintain our facility, because we take great pride in our facility.
If you have a need for commercial storage, warehousing, or asset management, contact Admiral Movers today at 334-262-6666.