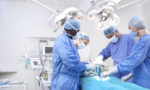 We don't even have to tell you that moving your confidential documents can be tedious and stressful. You know that, but how can we make it not? Admiral Movers offers secure chain of custody relocation.
What is secure chain of custody relocation? Secure chain of custody is essentially a chronological documentation of a "paper trail" that shows seizure, custody, control, transfer, analysis, and disposition of physical or electronic evidence. This allows for all of your personal and confidential information to remain secure during your move. By protecting these documents and your assets, secure chain of custody relocation protects you, your clients, and your business from liability.
A large, corporate bank located in Montgomery, AL closed due to a national financial crisis. Luckily for them, Admiral Movers was there to help. Read more about our experiences with secure chain of custody in this case study.
If we can help you with secure relocation or just advice on a project you have coming up feel free to call, email or fill out a request form. We are here to help.